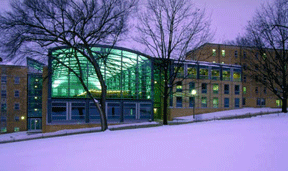 The 1990s marked another period of remarkable change for the Program. In 1993, Professor Remington retired from the Law School. Although he had ceased day-to-day involvement in LAIP matters, his influence continued to be widely felt and his advice sought by students and faculty alike. Professor Remington passed away in early 1996.
In the fall of 1996, when the offices were completed in the newly expanded and renovated law school, the faculty unanimously agreed that the Program, as Professor Remington called it, be renamed "The Frank J. Remington Center for Education, Research, and Service in Criminal Justice." The Remington Center was dedicated on November 8, 1996, in a ceremony that included family, friends, colleagues, and students.
The development of the Remington Center's new offices coincided with some substantive changes in the organization of the projects housed there. The second half of the 1990s saw remarkable developments in the Center, all designed to provide students with the educational experience that Professor Remington believed in so strongly. The Center, now staffed by a greater number of highly experienced supervising attorneys, began to take on more complex family law and postconviction cases. Further, demand among law students for involvement in clinical work during the academic year was growing beyond what Center staff could manage while maintaining high standards of teaching, writing and service. The Center's history of experimentation and adjustment to the changing landscape of legal education and criminal justice is reflected in its current shape. At the turn of the century, the Center had eight clinical projects.
The Center continues moving ahead and changing with the technological developments of the twenty-first century and adapting to new circumstances, both internal and external. The educational model remains the same: