In 1963, Frank Remington, with his colleagues Don Newman and Margo Melli, agreed that preparation of future lawyers should not be limited by what could be taught and learned in the classroom. Law students needed experience to complement their classroom endeavors, for "only through firsthand experience can the young lawyer hope to develop adequate professional capacity to make a contribution."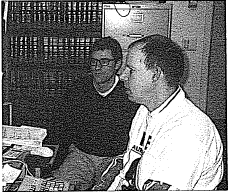 Professors Remington, Newman, and Melli launched an experiment called the Law Student Correctional Internship Program. The first eight interns went out into the field in the summer of 1964. The program was not "on-the-job" training for positions the law student might later hold. Rather, the idea was to broaden the student's exposure to complex social and legal issues via in-depth experience in areas with which the student might not be directly involved over the course of a professional career. That experience, initially, took place in prisons.
Combining classroom preparation, observation in prison settings, and reflective writing, the young program flourished. Students were eager to participate and it generated faculty interest and support, as well as the cooperation of corrections personnel. It helped establish criminal justice as a respectable field of academic study and professional education in a time when criminal law was a narrow field of study incidental to a comprehensive legal education at most law schools.
In its first few years, the summer internship program was primarily an opportunity for law students to observe the correctional system in action.
One law student acted as "chauffeur" for members of the Wisconsin Parole Commission and sat in on all parole hearings. Another student assisted with recreation programs at a prison. A third acted as an assistant social worker. The heightened profile of law students in the correctional facilities quickly brought demand for legal services, initially from prison staff on behalf of inmates and then from the inmates themselves. Against a backdrop of increasing litigation in federal and state courts concerning prisoner rights and grievances, correctional student interns were often pressed for legal advice and help with family issues, review of convictions, and sentence modification. Beginning in 1969, Professor Remington and the Division Oater Department) of Corrections concluded that law students might effectively assist inmates with their legal concerns and that the resolution of outstanding legal problems of the incarcerated would make successful reintegration into communities more likely. This was the beginning of a more formal legal services program for prisoners.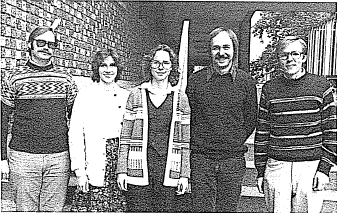 Supervising attorneys in the late 1970's:
(left to right) Bill Lundstrom,Jane Muller-Peterson,
Margaret Maloney, Ben Kempenin, and Ron Talsky
Professor Remington encouraged supervising attorneys and students to develop a partnership with corrections staff, building trust and helping to solve problems. He recognized that the Law School and the corrections system could learn a great deal from each other. There is no more concrete demonstration of the value of the Program than the fact that during its entire history, at least half of its funding (now three quarters of a million dollars annually) has come from Corrections.
Professor Remington and the first Director of the Program, Walter J. Dickey, frequently described LAIP as a "learning center" for the development of knowledge through the direct experience of students and attorneys and through more formal research, and for the dissemination of that knowledge to those who would use it. As a "learning center," LAIP reflected "the Wisconsin Idea"-the use of University resources in the ongoing quest to advance research, education, and service throughout the state and nation. Professors Dickey and Remington believed LAIP should playa vital role in the improvement of the state's criminal justice system and be a model for other states. Thus, over the years, insights derived from the LAIP experience have been shared with not only the academic world but also with the legal profession through writing, continuing education programs, and bar meetings; with the correctional system through advice and rule drafting; with the legislature through assistance to committees, testimony, and legislative drafting; and with the public through the media and public speaking. Program students and attorneys have played vital roles in the development of numerous statutes and administrative and judicial rules.
The life blood of the Program remains its students. As lawyers, Program graduates have an exceptional understanding of the complex operations of the criminal justice system, and many have gone on to positions as state and federal prosecutors, public defenders, judges and private lawyers. Other graduates have taken positions in corrections - including current Faculty Director Walter J. Dickey, who spent four years as the head of the Wisconsin Department of Corrections (DOC); Stephen Bablitch, who succeeded him in that position; and Mary Wilburn, who served as Chair of the Wisconsin Parole Commission.