The traveling exhibit "Justice for All: The Legacy of Chief Justice Shirley S. Abrahamson" is on display through Thursday, Dec. 15, at the University of Wisconsin Law School Law Library.
Abrahamson '62 is famous for many firsts, including:
First female to earn tenure at UW Law School (with Margo Melli, 1966)
First female Wisconsin Supreme Court justice (1976) and chief justice (1996)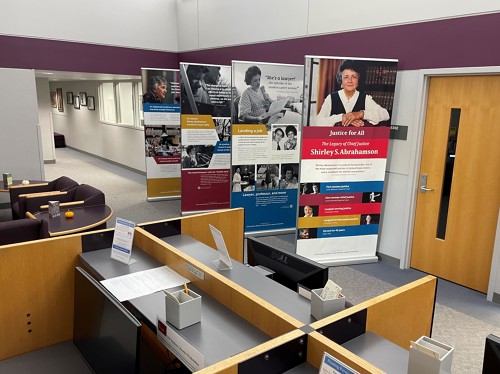 The exhibit was created to educate the public about the most influential justice in state history, said another former Wisconsin Supreme Court Justice, Janine P. Geske. She is co-chair of the committee that made this exhibit possible; the other co-chair is U.S. Sen. Tammy Baldwin '89.
"Through this exhibit and the accompanying website, people can better get to know the incredible impact Chief Justice Shirley Abrahamson had on the development of Wisconsin law, the leadership she demonstrated on making our courts more accessible and understandable, and the unwavering support she showed for women and girls," said Geske, also a distinguished professor at Marquette University Law School. "We want to share and celebrate Shirley's legacy of excellence, compassion and public service."
Viewing the physical exhibit is easy, requiring less than 10 minutes. It's also interactive, allowing you to spend time on your own to dig deeper.
When you scan the banners' QR codes with your cell phone camera, you'll find:
Quotes, like this one: "A woman's place is in the house—the State house, the courthouse, even the White House."
A visual biography.
Videos of Abrahamson's 1976 and 1996 investitures.
The Tootsie the Goldfish game, which allows you to play the role of circuit court judge, appeals court judge and Supreme Court justice in an eviction case.
Examples of Abrahamson's outreach efforts, including the Court with Class program for high school students.
Abrahamson served for a record-breaking 43 years before retiring in 2019; she passed away on Dec. 19, 2020, at age 87.
Today, the Wisconsin Supreme Court has six women on the seven-member body: Annette Kingsland Ziegler (Chief Justice), Ann Walsh Bradley, Patience Roggensack, Rebecca Grassl Bradley, Rebecca Frank Dallet and Jill Karofsky.
Article and photos by Jennie Broecker, University of Wisconsin Law School External Affairs.
Megan McDermott: Chief Justice Abrahamson was a Teacher at Heart
Working as a clerk for Wisconsin Supreme Court Justice Shirley Abrahamson changed the direction of Megan McDermott's career. And not just geographically.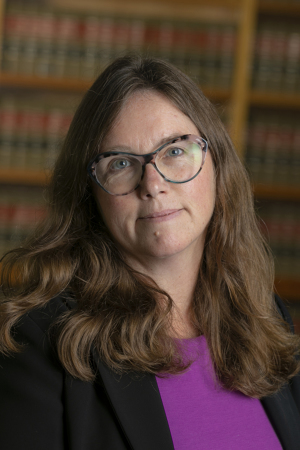 McDermott has taught doctrinal courses at University of Wisconsin Law School since 2013. Her past and current classes include Civil Procedure, Professional Responsibilities, Torts and Bankruptcy.
She reflected this fall on Abrahamson's influence after viewing the traveling exhibit honoring Wisconsin's first female justice, on display in the Law Library through Thursday, Dec. 15.
Is there something specific that led you to taking the clerkship with Chief Justice Abrahamson? Did you do that upon graduation from Berkeley Law?
Yes, I started the clerkship the summer after graduating (and around a week after taking the California Bar exam­–a busy summer!).
I originally wasn't planning to clerk, but I learned about the opening during my 3L year and thought it would be a valuable experience. Plus, to be honest, I wanted an extra year to make decisions about practice, and specifically whether I wanted to take a job on the East Coast (where my family is) or stay on the West Coast. After a year in Madison, I decided that the answer was "neither." I wanted to stay in the Midwest! (I went back to California at first, but I eventually found my way back to Madison five years later.)
What was that experience like?
Fascinating and challenging. It's fascinating because the Wisconsin Supreme Court has discretion over which appeals to hear. Every case the Court takes involves issues of first impression, with many important doctrinal and policy choices for the court to make.
It's challenging because the workload is intense. We had around 90 cases that term, and I was the only law clerk in the Chief's chambers. We had a lot of help from interns, though.
How did it shape your career, as you have private, public and administrative practice experience?
Spending a year in Madison definitely influenced my career, at the very least in terms of where I wanted to practice–I was able to transition from a federal government position in Colorado to a similar position here in Madison. Also, supervising so many interns made me realize that I enjoyed teaching and mentoring. So I eventually moved into a part-time administrative law job that allowed me to start teaching part-time at UW Law School.
In addition, working for Chief Justice Abrahamson taught me the meaning of hard work. She typically worked from 9 a.m. until midnight or even later, and she expected her law clerks to be working, too. After that experience, putting in the long hours expected as an associate in private practice was a breeze!
What memorable moments have come back to you since seeing the exhibit?
Many dinners together in chambers talking about cases or just life in general. She also hosted a small breakfast for Justice Scalia when he was visiting Madison that year–inviting a few of her colleagues on the Wisconsin Supreme Court, the Chancellor of UW, the local federal district court judges and me. What a group!
As someone who teaches at UW Law School, what have you learned from Chief Justice Abrahamson that you try to impart upon your students?
Chief Justice Abrahamson was a teacher at heart, and she brought an educator's perspective to the entire court system. She was always looking for ways to show Wisconsinites how the justice system worked. She also made a point of writing and speaking about the law in ways that ordinary people could understand. I try to bring that down-to-earth quality into the classroom.
What do you see as Chief Justice Abrahamson's influence on the world today? Or Wisconsin in particular, like the fact that almost all Supreme Court justices today are women?
She was a great mentor to so many who came after her. She didn't just shatter the glass ceiling. She also looked for ways to lift others through the gap.
Why is the call to public service, as this exhibit emphasizes, important? And how do you see women in law shaping it?
The call to public service is a huge part of the Chief Justice's commitment to building a justice system that works for the average Wisconsinite. Women (and men) who shared this commitment found encouragement and support in the Chief.
Do you have a favorite Shirley Abrahamson quote of hers? If so, which one and why?
"What does Bill Prosser have to say about this issue?" (William Prosser is one of the leading figures in tort law and also the co-author of a leading treatise. So questions like this would always send me scurrying to the law library.)
To me, this quote epitomizes the Chief's approach to resolving cases. It wasn't about deciding how she wanted to rule and then picking the law that got her there. It was about using expert sources to identify the doctrinal roots of a question and then following the doctrine wherever it led.
Submitted by Law School News on October 13, 2022
This article appears in the categories: Alumni, Faculty, Features
Related employee profiles: Megan McDermott