The content of this article is more than 5 years old. Please be aware that information provided may no longer be accurate, up-to-date, or relevant.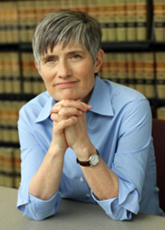 Meg Gaines

Martha (Meg) Gaines, a distinguished clinical professor at UW Law School, has won the 2017 Ellen Stovall Award for Patient-Centered Cancer Care. Gaines received the honor for championing individual patients' rights through the Center for Patient Partnerships, an innovative resource that is transforming cancer care daily for scores of patients and families.

Gaines, who graduated from UW Law School in 1983, is a cancer survivor. She founded the Center for Patient Partnerships in 2000 to train students in law, medicine, nursing, pharmacy and social work to provide advocacy to cancer patients all over the country. Interdisciplinary teams help cancer patients understand their diagnoses, get the information necessary to make critical treatment decisions, and support patients' efforts to get the treatment they need.

The National Coalition for Cancer Survivorship presents the Stovall Award annually to recognize exceptional cancer care providers. This year, Gaines is one of two honorees. She will be recognized, along with advanced practice nurse Patrick Coyne from the Medical University of South Carolina, at a Washington, D.C., reception on October 19.

Submitted by Christopher Yue on August 29, 2017
This article appears in the categories: Alumni, Articles, UW Women in Law