In recognition of his outstanding support of University of Wisconsin Law School students, faculty and staff, Peter Lawrence-Wehrle has received a Wisconsin Law Journal All-Star Award in the category of Unsung Hero.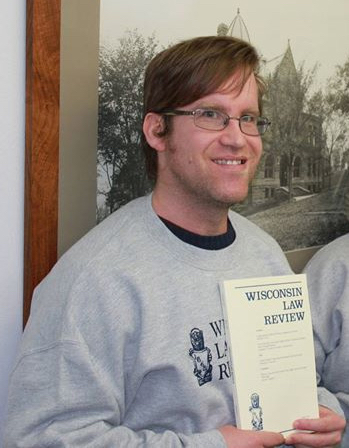 The award will be presented during a ceremony on Thursday, Dec. 8.
"At the University of Wisconsin Law Library, connecting people with the information resources they need to support their research and learning is a top priority," said Bonnie Shucha, associate dean and director of the Law Library. "Although they typically locate what they need in our outstanding Law Library collection, there are times when they cannot find what they seek."
As the Library's access services assistant, Lawrence-Wehrle uses his research and communication skills to provide students, faculty and members of the legal community with the information they need through interlibrary loan and document delivery.
"I am thankful for this appreciation and, most importantly, the friendships made over the past decade working with faculty and staff," said Lawrence-Wehrle. "I enjoy being a part of the scholarly process. It enables me to gain insight into their research interests and provide a more personal level of service. I am grateful as well to Law Library leadership for the opportunity to grow as a librarian through service to the Law School and wider campus community."
Submitted by Law School News on November 7, 2022
This article appears in the categories: Features
Related employee profiles: Peter Lawrence-Wehrle