Three emeritus professors from University of Wisconsin Law School were honored for lifetime achievement at the Law and Society Association's annual meeting, held in Washington, D.C. May 30 through June 2.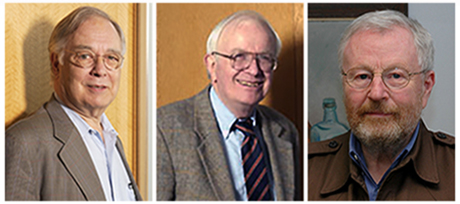 Professors Galanter, Macaulay and Trubek
Professors Marc Galanter, Stewart Macaulay and David Trubek all received the association's first annual Legacy Award in recognition of their contributions to LSA's mission and legacy. Trubek also received the Ronald Pipkin Award for his sustained and extraordinary service to the association.
LSA is one of the leading organizations for scholars interested in researching law in social, political, economic and cultural life. Galanter and Macaulay both served as LSA presidents in the 1980s, and Trubek is a former LSA trustee. In honoring their service, current president Kim Lane Scheppele noted, "We would not be here if it were not for their hard work and selfless dedication to blazing the trail for the rest of us."
Wisconsin has been at the forefront of law and society scholarship, even before the founding of the association in 1964. This year's meeting, which included many UW Law faculty, staff, affiliates and S.J.D. candidates, illustrates the school's ongoing influence in the field.
Professor Heinz Klug served as co-chair of the 2019 meeting; Professors Tonya Brito and Mitra Sharafi are current LSA trustees. UW Law faculty and staff participating in this year's event include:
Sumudu Atapattu, "Environmental Justice and Sustainable Development: Intersections and Critical Perspectives," discussion chair; "Environmental Pollution and Legal Claims," discussion chair; "Climate Change, Human Rights and Poverty: Intersections," paper presentation; "Water Rights and Water Racism: An Examination of Water/Sanitation Apartheid in Colombia, the Middle East, South Africa and USA," discussant.
Tonya Brito, "Advancing Research on State Courts and Executive Branch Agencies: Part II" roundtable participant.
Howard Erlanger, "What Trusts Have to do with Wealth and Inequality: Truth (and Lies) about the Law's Role in Economic disparity," discussant; "Celebrating Law & Social Inquiry," panel participant.
Linda Greene, "The Kavanaugh Confirmation: Thoughts on Sex and Gender Now that the Dust has Cleared," roundtable participant.
Kathryn Hendley, "Accessing Justice Amidst Inequality: Citizens and Claims-Making in the Global South," discussion chair; "Challenges of Studying Law in Authoritarian Settings: Big Data to the Rescue?" discussion chair.
Alexandra Huneeus, "Human Rights and the Populist Left in Latin America," paper presentation; "Law and Social Justice in Illiberal Times," discussant.
Heinz Klug, "Modern Legal Realism" (with Shauhin Talesh), paper presentation; "The Constitution of Myanmar: Local and Comparative Challenges for Constitutionalism" reader; "The Constitution and the Right to Dignity in South Africa: Exploring Contemporary Problems," roundtable participant; "Wielding Law and Mass Mobilization to Save the Democratic State," paper presentation.
Gwendolyn Leachman, "Teaching Law in the Trump Era," roundtable participant; "Sex, Gender & LGBTQ Mobilization," chair/discussant.
Elizabeth Mertz, "Dignifying Legal Translation," chair/discussant; "New Legal Realism (Part II)," roundtable participant; "A Realist View of U.S. Law Professors," paper presentation. • Mitra Sharafi, "New Books in South Asian Legal History," chair/discussant; "South Asians and West Africans at the Inns of Court: Empire and Disbarment circa 1900," paper presentation.
Susannah Tahk, "Tax Credits and the Deserving Poor," paper presentation.
David Trubek, "Re-Gearing the Corporate Legal Ecosystem in a Re-Geared World: Evidence from the Project on Globalization, Lawyers, and Emerging Economies," paper presentation.
Nina Varsava, "The Aesthetics and Ethics of Judicial Opinion Writing," paper presentation.
Submitted by Law School News on July 30, 2019
This article appears in the categories: Faculty, Features
Related employee profiles: David Trubek, Stewart Macaulay, Marc Galanter