There's a running joke among first-year law students in Rob Yablon's classroom: ask him a question, they say, and odds are he'll respond, "It depends."
But Yablon, who recently won teaching honors at UW-Madison, is in on the joke. He wants law students to begin viewing themselves as legal thinkers in their own right. By prompting them to consider more than one possible answer, he hopes they learn to question the assumptions they bring into his classroom.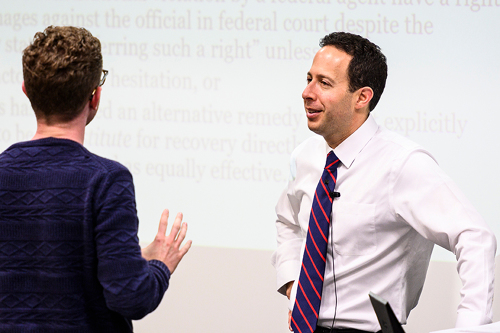 Prof. Rob Yablon talks with a student in his federal jurisdiction class.
Photo by Jeff Miller.
"For new students in particular, it can be frustrating to realize that so many legal questions lack black-or-white answers," says Yablon, who joined the University of Wisconsin Law School faculty in 2014. "I want them to view those gray areas as opportunities—as spaces where they have the chance to think creatively, to exercise judgment and to make their own mark."
That dedication to advancing learning has earned Yablon admiration from his students and colleagues, and campus accolades for his teaching. In April, he will be one of ten educators to receive a 2019 Distinguished Teaching Award from UW-Madison; and just last year, UW Law students named him Classroom Teacher of the Year.
Yablon teaches two large core classes at UW Law, Civil Procedure and Federal Jurisdiction, along with a popular elective called Law of Democracy. His research interests include political and election law, constitutional law, federal courts and statutory interpretation.
In course evaluations, students praise Yablon's knowledge of course subject matter, his use of humor in the classroom, and his ability to convey difficult concepts clearly. He is consistently commended for his kindness.
"I set high expectations, and I try to be candid when students fall short," Yablon says. "But, at the same time, I want to assuage their apprehensions and doubts. I let them know that I am cheering them on, and that I want them to succeed, in law school and beyond."
The university has presented its Distinguished Teaching Awards annually since 1953 to recognize its finest educators. Besides Yablon, seven other Law School professors have received the honor, including Miriam Seifter (2018); Alta Charo (2014); Howard Erlanger (2004, 1993); Jane Schacter (1998); John Kidwell (1992); Kenneth Davis (1990); and William Church (1985).
Chancellor Rebecca Blank and Provost Sarah Mangelsdorf will present the awards at 5 p.m. April 10 at the Pyle Center. The ceremony is free and open to the public.
Submitted by Tammy Kempfert on August 2, 2019
This article appears in the categories: Faculty, Features
Related employee profiles: Robert Yablon