A University of Wisconsin Law School community partnership earned first place honors and $1.1 million in provisional funding from the Alliance for the American Dream, a national competition for innovative ideas to move more families into the middle class.
Spearheaded by UW Law professors Sarah Davis, Marsha Mansfield, and Mitch, LIFT Dane is a Law School partnership with Legal Action of Wisconsin and Employment and Training Association (EATA) of Dane County. LIFT Dane, which stands for Legal Interventions for Transforming Dane, tied for first place for its plan to help Dane County families who are weighed down by fixable civil legal problems, such as suspended driver's licenses, consumer debt, child support arrears, and criminal records, that prevent them from advancing in the workforce, securing housing and stabilizing their families.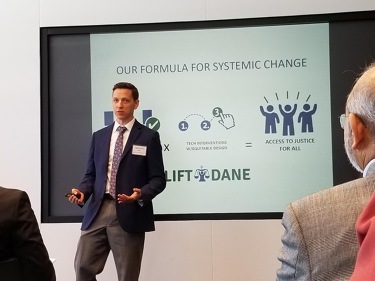 Prof. Mitch co-presented LIFT Dane's winning proposal.
The team's proposal envisions an online platform that provides workers with easy access to public data and services to help eliminate legal barriers to employment and opportunity. To incentivize local financial support, Schmidt Futures has also issued a challenge grant that will match additional investments in the project.
"We are thrilled with the outcome and we are working with our partners to begin building the technology this summer," says Marsha Mansfield. "Our next steps include continuing to fundraise so we can meet the goal of helping 10,000 Dane County families achieve at least a 10% increase in net income by 2020."
After advancing through the preliminary stages of the competition, the Law School team traveled to New York City for a final round, where they tied for first place. Both first place entries received a provisional award of $1 million.
"We are excited to hit the ground running to create a new model for helping families in Dane County," says Sarah Davis. "Through our work, we have been addressing the civil legal crisis one individual at a time, and we are excited that we will be able to reach more people through technology."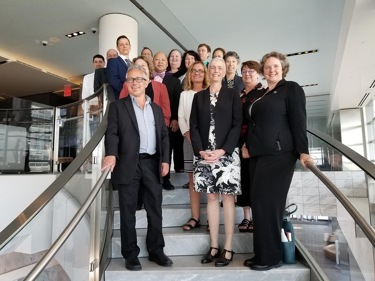 Teams from UW-Madison took 1st and 2nd place in
the competition.
By bringing together community, business, government, and non-profit networks to partner with UW–Madison, the project exemplifies the power of collaboration, says Mitch.
"This is a true academic-community partnership in the spirit of the Wisconsin Idea. We have many people and organizations to thank for their support and hard work on behalf of LIFT Dane," says Mitch.
Another UW partnership, We Care for Dane Kids, shared second place with its multi-pronged approach to transform the county's early childhood and after school care sectors by supplementing income for workers and child care costs, reducing operating expenses for facilities, and creating a child care benefit program. LIFT Dane and We Care for Dane Kids also received an additional provisional $100,000 for finalists garnering the most votes from other competing teams as the projects most directly addressing the competition's goal.
The Alliance, known locally as DreamUp Wisconsin, is sponsored by Schmidt Futures, a philanthropic initiative founded by Eric and Wendy Schmidt that bets early on people who will make our world better - helping people to achieve more for others by applying advanced science and technology thoughtfully and by working together across fields. Over the last year, the DreamUp Wisconsin team at UW–Madison worked with groups across the county, talking with nearly 1,000 people, about innovative ways to address the challenges lower income families face.
"In the final round of the 2019 Alliance for the American Dream competition, Schmidt Futures prepared to invest $1 million in an innovative idea to increase the size of the middle class - by creating the conditions that allow poor people to move out of poverty and into the middle class, and by preventing people in the middle class from falling into poverty," Schmidt Futures said in announcing the winners. "The final-round ideas were so powerful that we have decided instead to invest a total of $3 million across efforts in Arizona, Ohio, Utah, and Wisconsin."
Submitted by Law School News on July 11, 2019
This article appears in the categories: EJI News, Faculty, Features
Related employee profiles: Mitch, Sarah Davis, Marsha Mansfield