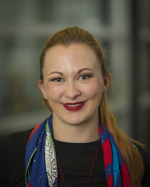 Emma Babler
Emma Babler has been named to Wisconsin Law Journal's Up and Coming Lawyers list for 2020. Babler, who received her J.D. at the University of Wisconsin Law School in 2015, is the reference & technology librarian at the University of Wisconsin Law School Library.
According to Wisconsin Law Journal, "The honorees chosen for this award are on the fast track to making a significant impact on the legal profession. They represent determination – in legal work, in community betterment and in improving their own law firms."
Babler joins five UW Law alumni who are receiving the honor this year:
Timothy Drewa '13
Matthew Lantta '14
Monica Mark '13
Amanda Parent '16
Olivia Pietrantoni '17
A virtual ceremony honoring these and other award winners is scheduled for Wednesday, Sept. 16.
Submitted by Law School News on September 18, 2020
This article appears in the categories: Faculty, Features
Related employee profiles: Emma Babler