'My hope is that these law students can see themselves in me and know that they can be successful'
For Catarina Colón, heritage means everything.
"My Latine heritage and my upbringing have impacted every aspect of my life, including my career path," said Colón, who graduated from University of Wisconsin Law School in 2019 and is now an attorney at Husch Blackwell LLP in Milwaukee.
Colón is a Wisconsin native who was born in Racine but has lived all over the state. Growing up, she also visited Puerto Rico for a month every summer to spend time with her father and other family members.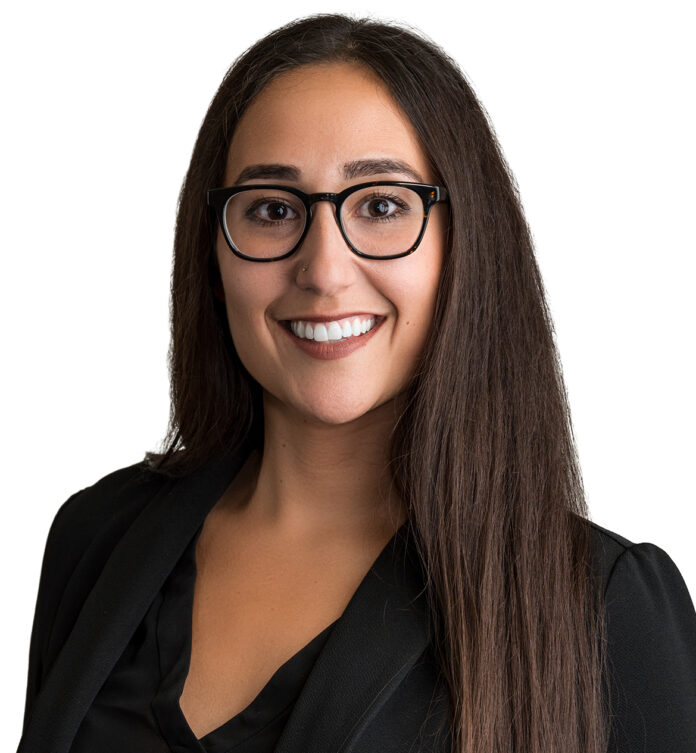 For Colón, choosing a career in law felt "natural."
"I was fortunate to have many lawyers in my family who paved the way for me," she said. "If not for the encouragement and support of my family, I am sure my career trajectory would look very different."
Her great aunt, Carmen Nuncia Monclova Anselmi, was an attorney in Puerto Rico. Her uncle, Pedro Colón, is a Circuit Court Judge in Milwaukee County. He was the first Latino elected to the Wisconsin Legislature, serving as a Democratic member of the Wisconsin State Assembly, representing the 8th assembly district, from 1999 to 2010. His wife (Colón's aunt), Betty Ulmer, is an in-house attorney in the greater Milwaukee area.
Her reasons for choosing UW Law School were equally simple.
"It's an outstanding institution with an amazing reputation, and as someone who went to undergrad at the University of Wisconsin–Madison, I knew it would feel like home," she said.
Colón's Law School experience was different from that of her peers.
"I started part-time, as I was working in Milwaukee and needed money to help with tuition, books, housing, etc.," she said.
That plan was short-lived.
"I transitioned to attending Law School full-time by spring semester," she said. "Given that I had worked prior to Law School, I viewed my schooling as a job, and I feel that outlook ultimately helped me stay focused on the end goal–landing a career that I loved while not having to live paycheck-to-paycheck."
While attending UW Law School, Colón was the vice president of academic affairs for the Latinx Law Student Association and participated in Moot Court. Her favorite professor was the late Professor Trina Tinglum.
"The first time I went to her office hours, we immediately became friends," she said. "She was kind and warm, but also realistic and helped me with goal setting. She even attended one of my vocal performances just because. I miss her dearly."
Another influential professor was Jonathan Scharrer, director of the Restorative Justice Project at the Frank J. Remington Center. Colón participated in the program during her second and third year of Law School.
"Professor Scharrer was instrumental in my professional development," she said. "There were many other professors at UW Law who believed in me when I felt like I was in an environment where I didn't belong or wasn't good enough. I graduated feeling more confident than ever in my academic and professional abilities because of them, and that confidence has translated into my legal career."
Colón hopes to impart the value of mentorship on the next generation of lawyers.
"I meet regularly (both in-person and virtually) with many law students and prospective law students from UW Law, Marquette Law School and law schools out of state," she said. "Sometimes, that looks like interview prep, sometimes it looks like providing outlines, sometimes it looks like giving pep talks when they're needed most, and sometimes it looks like connecting first-generation attorneys to my legal network. My hope is that these law students can see themselves in me and know that they can be successful. And that they continue the pipeline and mentor those who come after them."
---
Q: You're involved with your firm's Diversity, Equity and Inclusion team and Latinx Resource Group.What's that involvement look like, and why is it important to you?
A: I am the co-chair of HB Unidos, which is Husch Blackwell's Latine and Hispanic Employee Resource Group. The purpose of our group is to build community, create networking, career development and client development opportunities, and to assist with internal policy changes and thought leadership that are important to our members. This role is extremely important to me because I care deeply about our members and the difference it has made in their careers. I have also seen the changes that our Employee Resource Groups have had internally amongst colleagues who do not identify as racially diverse.
Q: You're also the co-founder and secretary of the National Association of Latino Healthcare Executives–Wisconsin Chapter and a board member for the Wisconsin Hispanic Lawyers Association. Can you discuss this work and, similarly to the above question, why it is important to you?
A: The National Association of Latino Healthcare Executives (NALHE) is a national organization led by Latine executive leaders of U.S. hospitals and healthcare organizations and experts in the fields of health care policy and practice. NALHE was founded in 2005 to increase senior-level Latine representation in hospitals and health systems in the United States. Its goal is to create a future workforce of highly talented Latine healthcare executives who can meet the challenge of delivering and improving healthcare in our diverse communities. My involvement in NALHE is important to me for obvious reasons–it helps bolster and advance the careers of Latine leaders in our community.
Q: You've been practicing law professionally for a few years now. What are the biggest challenges you've faced? And the biggest rewards of your career thus far?
A: The biggest challenge for me has always been work/life integration. I think Type A personalities are inclined to say "yes" to every opportunity that comes our way, and that can lead to burnout. I am currently working on improving my ability to say "no," which will ultimately allow me to focus on the things that matter most–my family, my health and wellbeing, and advancing my career with intentionality.
The biggest reward of my career has been seeing the positive impact that having a diverse workforce makes on the trajectory of a company, both internally at Husch and externally with the clients we assist.
Q: Is there something you'd like to share with future lawyers or those considering a career in law?
A: You can have a career in law without letting it define your life and take over your personality. Continuing to pursue your hobbies outside of your career will make you a more well-rounded, interesting person, and will arguably make you a better attorney.
Colón has three dogs–Odin, Loki and Sylas. Her partner is currently completing a psychiatry residency at Portsmouth Regional Hospital in New Hampshire, so Colón splits her time between both cities. In her free time, she enjoys weightlifting and music. She can play the piano, clarinet and now cello, which she took up during the pandemic. However, her primary instrument is her voice. As a student, Colón sang with the UW Madison Concert Choir.
Article by Kassandra Tuten, University of Wisconsin Law School External Affairs.
Photo courtesy Catarina Colón.
Submitted by Law School News on November 22, 2022
This article appears in the categories: Alumni, Features