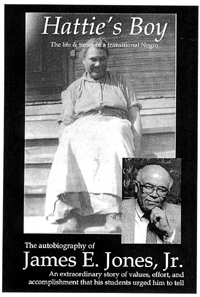 by James E. Jones, Jr., Professor of Law Emeritus, UW Law School
2006 edition, hardbound, 864 pages, $30.00
Summary
The University of Wisconsin Law School has recently completed a new book, the autobiography of Professor James Jones, Jr. The book, "Hattie's Boy - The Life & Times of a Transitional Negro," is a special book about a special member of the law school community.
For a generation, students of Jim Jones have recognized that his story needed to be told -- not just for the historical and racial perspectives he could offer, but also for the panoramic story of motivation and success it represents. With their encouragement, Professor Jones set out to record his life with the same work ethic, frankness, and strength of character that he has applied to many challenges.
The result is a personal, captivating, and candid sharing of his life's story. It depicts the poverty and segregation he faced in Little Rock in the 1920's and 1930's, his pursuit of education to escape, his role in shaping national labor relations and affirmative action policies, and his celebrated impact as a teacher, scholar, and colleague in what he calls the "legal academy
Throughout his story, Professor Jones reflects on the trilogy of motivation, striving, and success and how it shaped him. Foremost, he reflects on the profound and lasting influence of Hattie, his grandmother.
Preface Excerpt
This memoir is the final "homework" that my students assigned to me. Over 25 years or more, students have been intensely curious about "where I came from," or perhaps more accurately how I came to be . . . Students rarely asked the question directly and a naked resume or bio-blurb only seemed to heighten their curiosity. . . .I came to realize that cv's, resumes, bio blurbs, and even occasional newspaper reports portrayed "significant accomplishments" in which students, particularly, could see little with which they could identify as they struggled not only to become professionally (or at least academically) competent, but to grow, mature -- to "be." This memoir attempts to "fill-in-the-gaps" of how I came to be. It shares the struggles, the mistakes, the happy accidents in my life. In doing so, it also describes the "life and times" of the U.S. through the eyes and experiences of one participant/observer during major changes in the country -- the Depression, World War II, post-war social and economic change, Brown v. Board of Education and post-Brown "desegregation, the civil rights movement, affirmative action -- and the desegregation/integration of higher education." The author was "carried along" on the crest of each wave, as I came to be.

James E. Jones, Jr
Chapters
Alias June Cummings
Of Motivation and Role Models and Things Like That
The First Six or Seven Years
White School, Red School, and the Logic of Jim Crow Laws
Why I Don't Like Fish
On Spousal Abuse, Child Abuse, Discipline and Respect
1944: Of Joy and Pain, Growth and Change
Search for My Father
Of Success and Failures, Triumphs and Defeats
The Law School Years
United States Department of Labor, Office of the Solicitor, Division of Legislation and General Legal Services
Taking Advantage with Stereotypes
Realizing the American Dream
The Transition from Federal Government to Academe
The Wisconsin Initiative 1968-69
Teaching While Black
The Afro Student Center Connection
The UW Athletic Board 1972-1989
The Madison Police and Fire Commission and the Winds of Change
Flirting With "Burnout"
Serendipity and Success
"Professor Jones, The White House Called!"
The LEO Tribute
Labor Law at Wisconsin
The William H. Hastie Minority Teaching Fellowship Program
Contribution, Satisfaction, Recognition
Dunbar Legacy
The National Bar Association Hall of Fame
Ordering
Order Hattie's Boy through the CLEW publications online ordering form.