Covid 19 Update
Shipping times are delayed due to Wisconsin's Safer at Home order. Questions? Contact clew@law.wisc.edu
Criminal Law Publications
Wisconsin Crimes - Elements, Definitions, & Penalties
By David E. Schultz, Professor of Law Emeritus
2018 edition, 260 pages, $45
More Details
Wisconsin Crimes - Elements, Definitions, and Penalties was completely updated in 2018. View sample pages of Wisconsin Crimes (PDF)
The University of Wisconsin Law School is pleased to publish the third edition of Wisconsin Crimes - Elements, Definitions, and Penalties.
This unique resource provides concise references specifying the elements of crimes defined in the Wisconsin Statutes and indicating the applicable penalty. The publication was originally designed to assist judges in accepting pleas of guilty, however, its uses also include the following:
aiding judges and lawyers in evaluating the sufficiency of criminal complaints;
aiding law enforcement officers in making decisions about arrests and drafting complete reports;
aiding prosecutors in evaluating charging decisions and preparing for entry of a guilty plea;
aiding defense counsel in advising clients regarding the plea decision and preparing for the entry of a guilty plea.
Elements
Wisconsin Crimes - Elements, Definitions, and Penalties contains summaries of the elements of the vast majority of crimes in the Criminal Code of Wisconsin, plus selected criminal traffic offenses and some non-Criminal Code offenses. Virtually all crimes for which there are published jury instructions in Wisconsin Jury Instructions-Criminal are included, along with several offenses for which there are no standard instructions. Penalties for each crime are specified by reference to its penalty class and each entry also includes, where applicable, reference to significant "collateral consequences" - identifying offenses that qualify as predicates for application of "persistent repeater" provisions ["Three Strikes" and "2 Strikes"], mandatory sex offender registration, Chapter 980 commitment, etc.
Definitions
General definitions of terms used in the Criminal Code are provided. Also included are summaries of general matters like "party to crime," "attempt," "defenses," etc.
Crimes
Crimes are grouped according to the chapter of the Wisconsin statutes in which they appear, organized by statute number. The table of contents for each chapter is included, as it appears in the published statutes.
About the Author
David Schultz is Professor of Law Emeritus at the University of Wisconsin Law School. Professor Schultz worked as a staff attorney in the Corrections Legal Services Program for two years before he became affiliated with the UW Extension Law Program. Through the Continuing Legal Education and Outreach Program, Professor Schultz has taught a variety of programs on criminal law for lawyers, judges, and police officers. Professor Schultz has been the Reporter for the Wisconsin Jury Instructions Criminal since 1976. He has published a book review on Escape of the Guilty in the Marquette Law Review (1987) and, earlier, co-authored with UW Law Professors Remington and Dickey an article titled "Law, Trial Judges, and the Psychiatric Witness," which appeared in the International Journal of Law and Psychiatry (1980). He also co authored, with Prof. Walter Dickey and James Fullin, "The Importance of Clarity in the Law of Homicide: The Wisconsin Revision" (1989). Professor Schultz has been a member of the Wisconsin Judicial Council since 1989; he chaired the organization from 1991 through 1996.
Wisconsin Land Use Law Publications
Wisconsin Land Use & Planning Law
By Professor Brian W. Ohm
2013 edition, 283 pages, $33.00
More Details
The University of Wisconsin Law School announces the publication of Wisconsin Land Use & Planning Law by Professor Brian Ohm. Professor Ohm's academic career at the University of Wisconsin has emphasized working closely with local Wisconsin communities on land use and planning issues. His efforts in writing this publication, teaching students in the classroom, and working with Wisconsin professionals, officials, and citizens on actual land use and planning challenges are clear evidence of the vitality of the "Wisconsin Idea."
This new publication provides a current look at the legal framework for land use planning and regulation in Wisconsin communities. It is meant to serve as an educational tool and a reference work to assist in local decision-making involving land use issues. The book covers legislative, administrative, and judicial developments through July 1, 2013.
Special Features of the New Book
Provides a practical overview of the planning process in Wisconsin
Details local government bodies involved in planning, particularly the plan commission
Summarizes the types of plans related to local development
Describes efforts to encourage communities to follow land use plans, with emphasis on consistency between plan implementation tools and the plan
Provides valuable advice on the role of citizens in the planning process
Explains zoning and subdivision regulations and other planning tools
Summarizes the federal and state constitutional framework for regulating land use
Author
Brian Ohm is a professor in the Department of Urban & Regional Planning at the University of Wisconsin-Madison where he teaches planning law. He holds a joint appointment with Cooperative Extension of the University of Wisconsin-Extension where he serves as the state specialist in planning and land use law. Prior to joining the University of Wisconsin, he practiced law for a Minneapolis law firm and served as inhouse counsel for the Metropolitan Council, the regional governing body for the Twin Cities.
Contents
Chapter 1: Introduction to Community Planning
Chapter 2: The Plan Commission
Chapter 3: Types of Plans
Chapter 4: Exploring the Concept of "Consistency" Under Wisconsin Law
Chapter 5: Zoning
Chapter 6: Subdivision/Land Division Regulations
Chapter 7: Other Laws Affecting Community Planning
Chapter 8: The Federal and State Constitutional Framework
Wisconsin Real Estate Law Publications
Wisconsin Real Estate Law
By Scott C. Minter & Debra Peterson Conrad
2017 edition
To order this title, please visit the Wisconsin Realtors Association.
More Details
The law school is proud to offer the 2017 edition of Wisconsin Real Estate Law, a book with a long history of service to the Wisconsin real estate community. Because earlier editions written by Walter Raushenbush and James MacDonald were widely used and referred to, Wisconsin Real Estate Law is regarded as a standard reference on real estate transactions for brokers, salespersons, lawyers, and other professionals.
The new edition of Wisconsin Real Estate Law (2017) completely updates the prior 2014 edition. It emphasizes the many changes resulting from new forms, new legislation, and recent court decisions. Each chapter of the respected treatise is updated to reflect changes and trends in Wisconsin Real estate practice.
As with past editions, the Wisconsin REALTORS® Association has participated with the University of Wisconsin Law School in the authorship. This collaboration provides Wisconsin REALTORS® with practice-oriented discussions on contemporary legal and regulatory issues facing real estate professionals and parties in real estate transactions.
The new edition contains the current versions of many common real estate forms and provides thorough explanations of legal issues and practice problems that commonly arise in Wisconsin transactions.
Special Features of the 2017 Edition
Completely updated text
Helpful discussions and updated explanations tied to the new listing contract
Expanded and updated discussions on important topics, such as the listing contract, agency duties, offer to purchase, disclosure obligations, and real estate licensure, closings, trust accounts, and landlord-tenant
Updated chapters on closing issues, housing discrimination, land use controls, trust accounting and landlord/tenant
Updated collection of real estate statutes and administrative regulations
Contents of the 2017 Edition
Chapter 1: State Regulation of Real Estate Brokerage
Chapter 2: The Firm, the Broker, and the Salesperson
Chapter 3: Agency Roles of the Firm, the Broker, and the Salesperson
Chapter 4: Disclosure and Misrepresentation Issues
Chapter 5: The Listing Contract
Chapter 6: Buyer Agency
Chapter 7: The Offer to Purchase
Chapter 8: Closing the Real Estate Transaction
Chapter 9: Real Estate Trust Accounts
Chapter 10: Contract Interpretation and Remedies
Chapter 11: Description of Real Estate
Chapter 12: Deeds
Chapter 13: The Land Contract
Chapter 14: Mortgages
Chapter 15: Title Designations: Ownership, Management, and Control
Chapter 16: Antitrust Law
Chapter 17: Lead-Based Paint Issues
Chapter 18: Consumer Protection
Chapter 19: The Law Against Discrimination In Housing
Chapter 20: Land-Use Controls
Chapter 21: Landlord-Tenant Law
PLUS over 25 forms and a convenient collection of Wisconsin Real Estate Statutes & Administrative Rules
About the Authors
Scott C. Minter is a senior lecturer and program attorney at the University of Wisconsin Law School. He has co-authored each edition of Wisconsin Real Estate Law since 1994. He has also authored Wisconsin Real Estate Trust Accounts and co-authored Wisconsin Real Estate Clauses published by the law school. Mr. Minter was a contributing author of the 1998 edition of Titles to Real Estate, authored by James Vance. He has served as a member of the Real Estate Contractual Forms Advisory Council of the Wisconsin Department of Regulation and Licensing from 1984 to 2016.
Debra Peterson Conrad is director of legal services for the Wisconsin REALTORS® Association (WRA). Before joining the WRA, she was in private practice, emphasizing real estate, condominium, small business, trusts and probate law. Her responsibilities for the WRA include writing the monthly Legal Update, drafting WRA forms and other publications, supervising the WRA Legal Hotline (8,000 REALTOR® calls per year). She co-authored the 2008, 2010, and 2014 editions of Wisconsin Real Estate Law.
Real Estate Trust Accounts in Wisconsin - A Broker's Guide to Complying with State Regulations
By Scott C. Minter & Debra Peterson Conrad
2014 edition, 99 pages, $22.00
To order this title, please visit the Wisconsin Realtors Association.
More Details
Real Estate Trust Accounts in Wisconsin is a product of a long-standing cooperative relationship between the University of Wisconsin Law School and the Wisconsin REALTORS® Association. The goal of this publication effort is to provide real estate licensees with a clear, concise, and practical explanation of a broker's duty to handle trust funds according to procedures established by the Department of Safety and Professional Services and the Real Estate Examining Board. This handbook identifies problems that arise in a real estate transaction involving earnest money and other types of trust funds and suggests ways to comply with state trust account regulations.

The 2014 edition is again co-authored by Debbi Conrad, Senior Attorney and Director of Legal Affairs for the Wisconsin REALTORS® Association, and Scott Minter, University of Wisconsin Law School.

The first part of this handbook explains the rules of the Department for accounting for trust funds. The second part explains the record keeping requirements of the Department to ensure that trust funds are properly held and accounted for after disbursement. Numerous samples of bookkeeping forms are included to help brokers develop a professional bookkeeping system that complies with Department rules.

The 2014 edition retains the features that made this publication a popular and useful professional resource since 1998, including: updated text, helpful practice recommendations, sample trust accounting forms, and a handy compilation of current statutory and administrative rule provisions. The 2014 edition updates the text to include current trust account issues and new administrative rules that took effect on July 1, 2014.
Contents
Chapter 1: Introduction
Chapter 2: What Are Trust Funds?
Chapter 3: Account Requirements
Chapter 4: Handling Trust Deposits and Disbursements
Chapter 5: Disbursing Earnest Money
Chapter 6: Property Management Trust Funds
Chapter 7: The Bookkeeping System
Chapter 8: Step 1: The Cash Journal
Chapter 9: Step 2: The Ledger
Chapter 10: Steps 3, 4, and 5: Account Reconciliation, Trial Balance, and Validation of Account
Chapter 11: Computerized Trust Accounting
Chapter 12: Trust Account Problem Areas for the Broker
Chapter 13: Who is Responsible for Handling Trust Account Funds?
Chapter 14: Retaining Trust Account Records
Chapter 15: A Review of the Legal Requirements for Trust Accounts
Illustrations
Sample Cash Journals
Computer-Printed Cash Journal
Sample Ledgers
Broker's Funds
Rental Ledger
Computer-Printed Ledgers
Sample Reconciliation
Sample Trial Balance
Setup Class
Reconciled Bank Statement
Reconciliation Report Setup
Monthly Reconciliation
Customized Transaction Report
Trial Balance Report
Memorize Report
Journal Pages Report
Ledger Pages Report
Wisconsin Real Estate Clauses: Contingencies and Other Standard Provisions
By Debra P. Conrad, Cori Lamont, Tracy Rucka, Scott Minter
2019 edition
To order this title, please visit the Wisconsin Realtors Association.
More Details
This popular handbook is a basic and current source book for drafting clause language and other common contractual provisions in real estate transactions. The handbook contains sample clauses dealing with issues raised in contemporary real estate transactions. The new edition is an up-to-date collection of contract clauses which are typically inserted into real estate offers to purchase. Also included in this handbook are checklists and advice to follow in the drafting of offers and counteroffers. The 2012 edition adds 136 new clauses to bring the total number of suggested clauses to 266. The updated text discusses the revised offers to purchase approved by the Wisconsin Real Estate Examining Board. Offers to purchase and other forms approved by the board are included as appendices, along with Wisconsin REALTORS® Association preprinted addenda containing contingencies.
Chapter I: Drafting Considerations & Advice
Chapter II: Sample Clauses: Agency Agreements
Chapter III: Sample Clauses: Offer to Purchase and Other Contracts
Chapter IV: Sample Clauses: Representations & Disclosures
Chapter V: Sample Clauses: Broker Disclosures
Chapter VI: Sample Clauses: Condominium Provisions
Chapter VII: Sample Clauses: Short Sale Provisions
Chapter VIII: Sample Clauses: Rental Properties
Chapter IX: Sample Clauses: Commercial & Business Offer Provisions
Appendix: Forms & Regulations
Special Publications
Hattie's Boy
By Professor James E. Jones, Jr.
2006 edition, Hardbound, 864 pages, $30.00
More Details
The University of Wisconsin Law School has recently completed a new book, the autobiography of Professor James Jones, Jr. The book, "Hattie's Boy - The Life & Times of a Transitional Negro," is a special book about a special member of the law school community.
For a generation, students of Jim Jones have recognized that his story needed to be told -- not just for the historical and racial perspectives he could offer, but also for the panoramic story of motivation and success it represents. With their encouragement, Professor Jones set out to record his life with the same work ethic, frankness, and strength of character that he has applied to many challenges. The result is a personal, captivating, and candid sharing of his life's story. It depicts the poverty and segregation he faced in Little Rock in the 1920's and 1930's, his pursuit of education to escape, his role in shaping national labor relations and affirmative action policies, and his celebrated impact as a teacher, scholar, and colleague in what he calls the "legal academy
Throughout his story, Professor Jones reflects on the trilogy of motivation, striving, and success and how it shaped him. Foremost, he reflects on the profound and lasting influence of Hattie, his grandmother.
From the Preface
This memoir is the final "homework" that my students assigned to me. Over 25 years or more, students have been intensely curious about "where I came from," or perhaps more accurately how I came to be . . . Students rarely asked the question directly and a naked resume or bio-blurb only seemed to heighten their curiosity. . . I came to realize that cv's, resumes, bio blurbs, and even occasional newspaper reports portrayed "significant accomplishments" in which students, particularly, could see little with which they could identify as they struggled not only to become professionally (or at least academically) competent, but to grow, mature -- to "be." This memoir attempts to "fill-in-the-gaps" of how I came to be. It shares the struggles, the mistakes, the happy accidents in my life. In doing so, it also describes the "life and times" of the U.S. through the eyes and experiences of one participant/observer during major changes in the country -- the Depression, World War II, post-war social and economic change, Brown v. Board of Education and post-Brown "desegregation, the civil rights movement, affirmative action -- and the desegregation/integration of higher education." The author was "carried along" on the crest of each wave, as I came to be.
Sampling of Chapter Titles in Hattie's Boy
Alias June Cummings
Of Motivation and Role Models and Things Like That
The First Six or Seven Years
White School, Red School, and the Logic of Jim Crow Laws
Why I Don't Like Fish
On Spousal Abuse, Child Abuse, Discipline and Respect
1944: Of Joy and Pain, Growth and Change
Search for My Father
Of Success and Failures, Triumphs and Defeats
The Law School Years
United States Department of Labor, Office of the Solicitor, Division of Legislation and General Legal Services
Taking Advantage with Stereotypes
Realizing the American Dream
The Transition from Federal Government to Academe
The Wisconsin Initiative 1968-69
Teaching While Black
The Afro Student Center Connection
The UW Athletic Board 1972-1989
The Madison Police and Fire Commission and the Winds of Change
Flirting With "Burnout"
Serendipity and Success
"Professor Jones, The White House Called!"
The LEO Tribute
Labor Law at Wisconsin
The William H. Hastie Minority Teaching Fellowship Program
Contribution, Satisfaction, Recognition
Dunbar Legacy
The National Bar Association Hall of Fame
Trusting Nothing to Providence: A History of Wisconsin's Legal System
By Joseph Ranney
1999 edition, 778 pages, $35.00

More Details
Providing a comprehensive and thoughtful perspective on the persons, events, and public debates shaping Wisconsin's legal system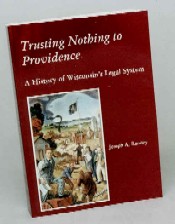 This publication, Joseph Ranney notes, "throughout Wisconsin's history, legal debates and judicial opinions have reflected a genuine effort to think through difficult problems and reach principled results, either without regard to the political consequences or as a good faith effort to achieve a reasonable compromise between competing interests."
Trusting Nothing to Providence is the first book on Wisconsin legal history, and it is believed to be the first comprehensive history written on the legal system of an individual state. In this unique book, Joseph Ranney has analyzed major court decisions, statutory initiatives, and legal debates that have shaped the development of life and trade in Wisconsin. He features Wisconsin citizens--prominent, notorious, persuasive, or courageous-- who played key roles in shaping these legal developments.
This book is written for a broad audience. For Wisconsin lawyers, legislators, and judges, this book will provide a broad historical appreciation of Wisconsin's legal heritage and the development of the legal system within which they work. For others interested in Wisconsin history, Mr. Ranney provides a clearly written description and explanation of the development of Wisconsin's legal system, presented both chronologically and thematically. This book is especially significant for persons interested and intrigued by Wisconsin's reputation for innovation and reform. Wisconsin, a state of average size far from the national centers of power, has nonetheless been a leader of governmental reform since statehood. Mr.Ranney's thoughtful analysis and perspective show how Wisconsin has earned this leadership position and developed a respected legal system of civil and criminal justice.
Author
Joseph A. Ranney received a B.A. degree from the University of Chicago in 1972 and a J.D. degree from Yale Law School in 1978. He is a shareholder in the Madison, Wisconsin, law firm of DeWitt Ross & Stevens, S.C., where he practices civil litigation.
From The Text
"Throughout Wisconsin's history, its lawmakers have actively and constantly considered the need for change though they have often disagreed, sometimes bitterly so, on whether change was necessary and on its details. They have not waited for other states to act when they felt change was needed. Nor have they felt constrained to follow changes adopted in other states, even wide-spread changes, if they disagreed with the reasoning behind the changes. Above all else, Wisconsin has "trust[ed] nothing to concession, nothing to time, nothing to Providence" in developing a legal system to provide social order and promote its vision of life, liberty, and the pursuit of happiness."
778 pages of text and illustrations
Includes a timeline of major events in Wisconsin legal history and a bibliographical essay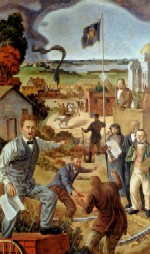 Chapters
Law in the Wilderness
Building a Territorial Legal System, 1836-1848
The Making of the Wisconsin Constitution
Law for a New State: The Tumultuous Years, 1848-1870
The States Rights Movement and the Civil War Era
The Wide Open Era: Law in Wisconsin's Early Industrial Age, 1848-1875
The Limitations of Buoyant Opportunism: Corporate Consolidation and Regulation, 1875-1915
Tort Law in 19th Century Wisconsin
"The Last Thing a Man Becomes Progressive About": Wisconsin Women and the Law, 1846-1920
Aliens and "Real Americans": Law and Ethnic Assimilation in Wisconsin, 1846-1920
The Good Government Movement in Wisconsin, 1895-1925
The Transformation of Wisconsin's Tax System, 1897-1925
Taming the Utilities, 1890-1920
Improving the Workplace, 1867-1925
Wisconsin Law in the Age of Institutions: Substantive Due Process and the Rise of Administrative Law
The Rise of Labor and Wisconsin's "Little New Deal"
Hesitant Socialization: Wisconsin Tort Law in the 20th Century
Orderly Logic, Disorderly Reality: A Short History of Wisconsin Contract Law
Wisconsin Criminal Law: The Elusive Goal of Ordered Liberty
"Looking Further Than the Skin": A History of Civil Rights Law in Wisconsin
"Equal in All Other Respects": Wisconsin Women and the Law Since 1920
The Practice of Law in Wisconsin: From the Heroic Age to the Age of Growth
The Thompson Years and the Age of Autonomy
Trusting Nothing to Providence
Wisconsin Jury Instructions
In partnership with the Wisconsin State Courts, the Wisconsin Jury instructions are now available free to the public through Wisconsin State Law Library. To learn more information about this transition, view the Wisconsin Court System's jury instructions announcement. The Wisconsin Jury Instructions will now be produced by the Office of Judicial Education and the UW Law School will no longer be printing or distributing the instructions, supplements, or CDs.
Online
Complete secure "Publications Order Form" online.
By Mail
Complete and print "Publications Order Form," then mail it with a check payable to UW Law School to:
CLEW Publications
UW Law School
975 Bascom Mall, Room 2348
Madison, WI 53706-1399
Order Form
COVID 19 Update: Shipping times are delayed.
Questions?
Contact clew@law.wisc.edu