by Joseph A. Ranney
1999 edition, 778 pages, $35.00
Providing a comprehensive and thoughtful perspective on the persons, events, and public debates shaping Wisconsin's legal system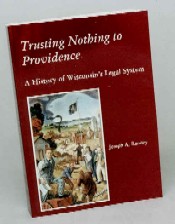 This publication, Joseph Ranney notes, "throughout Wisconsin's history, legal debates and judicial opinions have reflected a genuine effort to think through difficult problems and reach principled results, either without regard to the political consequences or as a good faith effort to achieve a reasonable compromise between competing interests."
Trusting Nothing to Providence is the first book on Wisconsin legal history, and it is believed to be the first comprehensive history written on the legal system of an individual state. In this unique book, Joseph Ranney has analyzed major court decisions, statutory initiatives, and legal debates that have shaped the development of life and trade in Wisconsin. He features Wisconsin citizens--prominent, notorious, persuasive, or courageous-- who played key roles in shaping these legal developments.
x
This book is written for a broad audience. For Wisconsin lawyers, legislators, and judges, this book will provide a broad historical appreciation of Wisconsin's legal heritage and the development of the legal system within which they work. For others interested in Wisconsin history, Mr. Ranney provides a clearly written description and explanation of the development of Wisconsin's legal system, presented both chronologically and thematically. This book is especially significant for persons interested and intrigued by Wisconsin's reputation for innovation and reform. Wisconsin, a state of average size far from the national centers of power, has nonetheless been a leader of governmental reform since statehood. Mr.Ranney's thoughtful analysis and perspective show how Wisconsin has earned this leadership position and developed a respected legal system of civil and criminal justice.
Author
Joseph A. Ranney received a B.A. degree from the University of Chicago in 1972 and a J.D. degree from Yale Law School in 1978. He is a shareholder in the Madison, Wisconsin, law firm of DeWitt Ross & Stevens, S.C., where he practices civil litigation.
From The Text. . .
"Throughout Wisconsin's history, its lawmakers have actively and constantly considered the need for change though they have often disagreed, sometimes bitterly so, on whether change was necessary and on its details. They have not waited for other states to act when they felt change was needed. Nor have they felt constrained to follow changes adopted in other states, even wide-spread changes, if they disagreed with the reasoning behind the changes. Above all else, Wisconsin has "trust[ed] nothing to concession, nothing to time, nothing to Providence" in developing a legal system to provide social order and promote its vision of life, liberty, and the pursuit of happiness."
778 pages of text and illustrations
Includes a timeline of major events in Wisconsin legal history and a bibliographical essay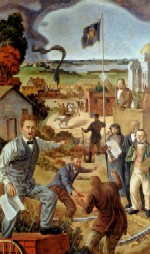 Chapters
1. Law in the Wilderness
2. Building a Territorial Legal System, 1836-1848
3. The Making of the Wisconsin Constitution
4. Law for a New State: The Tumultuous Years, 1848-1870
5. The States Rights Movement and the Civil War Era
6. The Wide Open Era: Law in Wisconsin's Early Industrial Age, 1848-1875
7. The Limitations of Buoyant Opportunism: Corporate Consolidation and Regulation, 1875-1915
8. Tort Law in 19th Century Wisconsin
9. "The Last Thing a Man Becomes Progressive About": Wisconsin Women and the Law, 1846-1920
10. Aliens and "Real Americans": Law and Ethnic Assimilation in Wisconsin, 1846-1920
11. The Good Government Movement in Wisconsin, 1895-1925
12. The Transformation of Wisconsin's Tax System, 1897-1925
13. Taming the Utilities, 1890-1920
14. Improving the Workplace, 1867-1925
15. Wisconsin Law in the Age of Institutions: Substantive Due Process and the Rise of Administrative Law
16. The Rise of Labor and Wisconsin's "Little New Deal"
17. Hesitant Socialization: Wisconsin Tort Law in the 20th Century
18. Orderly Logic, Disorderly Reality: A Short History of Wisconsin Contract Law
19. Wisconsin Criminal Law: The Elusive Goal of Ordered Liberty
20. "Looking Further Than the Skin": A History of Civil Rights Law in Wisconsin
21. "Equal in All Other Respects": Wisconsin Women and the Law Since 1920
22. The Practice of Law in Wisconsin: From the Heroic Age to the Age of Growth
23. The Thompson Years and the Age of Autonomy
24. Trusting Nothing to Providence