Building on two decades of collaboration, teams from the law schools at the University of Wisconsin-Madison and Nanjing University held a joint workshop on intellectual property May 23 in Nanjing, the capital of China's Jiangsu Province.
"As two of the world's top research universities, UW and Nanjing University are centers for discovery and innovation," said UW-Madison Chancellor Rebecca Blank in her remarks at the conclusion of the workshop. "As we create the technologies that will shape the future, we must also work to create more informed policies on intellectual property and licensing. This workshop is an important step in that direction."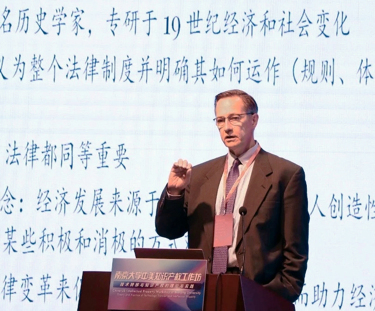 John Ohnesorge co-organized the Nanjing workshop.
UW-Madison Law Professor John Ohnesorge, director of the East Asian Legal Studies Center, organized the China-US Intellectual Property Workshop together with his colleague (and former UW Law School visiting scholar), Nanjing University Law Professor Xu Difeng. The daylong event consisted of three sessions – on the role of IP in high-tech industrialization, strategies for startups, and university tech transfer in China and the U.S. – and concluded with a roundtable discussion moderated by attorney Kening Li, who is an alum of both NJU (bachelor of science), and UW-Madison (Ph.D. 1995, J.D. with honors 1998).
Joining Ohnesorge in the May workshop at NJU were: Wisconsin Alumni Research Foundation (WARF) Managing Director Erik Iverson, UW Law student (and IP manager for WARF) Justin Anderson, and UW Law Professor BJ Ard.
"This was a really interesting time to be talking about IP issues," said Ard, noting that on the eve of his departure from Madison news was breaking about Google suspending its business ties with Huawei due to U.S. security concerns.
Ard's scholarship focuses on intellectual property, privacy and the intersections of law and technology. His talk at the Nanjing workshop, "From Patents to Products: Key Elements for Commercial Success," offered an American perspective on how innovation and discoveries can be moved to the market.
"They were very receptive," he said of the audience of law faculty, university administrators and students. "China and Chinese universities have been successful in patenting new inventions. The question is how do you take these inventions to the market and have commercial success?"
The UW-Madison team was able to point at the model of the Wisconsin Alumni Research Foundation, which is dedicated to patenting and licensing UW-Madison discoveries, and which was the subject of two workshop talks. Law student Anderson presented "WARF's Experiences on Ways to Manage Intellectual Property," while Iverson offered a talk titled, "The Power of Universities to Support High-Tech Industrialization." Iverson stressed the WARF mission of "accelerating the marketization of innovation" through supporting scientific research, conducting active asset management "and using the capital returned to make a difference in the world."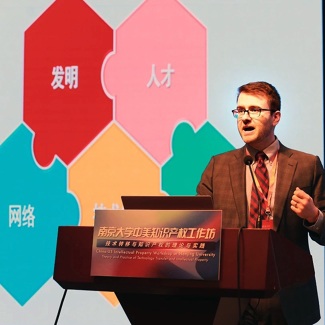 BJ Ard offered an American perspective on moving
innovation & discoveries to the market.
Ard said he left the workshop feeling hopeful after seeing Chinese administrators and innovators focused on how to use IP to strengthen their local and national economy. "This is a way forward to translate university inventions into valuable products," he said. "The more success they have, the less tension there will be, and the more mutually beneficial" to the U.S. and China.
Hosting the workshop was Dr. Gao Xinfang, director of the Nanjing University Office of Knowledge Transfer, Innovation & Entrepreneurship. Gao visited Madison in March to tour UW-Madison and learn about the innovative role of WARF in moving UW-Madison research discoveries to the marketplace. His office, established in 2017, serves as a new platform for tech transfer at NJU. (In 2016, China's Ministry of Education named NJU one of four universities designated as a "National Demonstration Base for Innovation & Entrepreneurship." The three other bases are at Tsinghua University in Beijing, Shanghai Jiaotong University in Shanghai, and Sichuan University in Chengdu.)
The idea for a series of workshops on IP, starting with the May event in Nanjing, was first discussed during Gao's March visit to Madison. "This broader alliance promises a bright future, as the Innovation & Entrepreneurship Office and WARF move forward towards an exciting series of meetings over the next two years in Madison and in Nanjing," said Professor Jerry Yin, director of the Wisconsin China Initiative, and a member of Chancellor Blank's May delegation to China.
The IP workshop kicked off two days of interrelated events (including a literature conference attended by six UW faculty) in Nanjing, culminating in the signing of a strategic partnership May 24 between UW-Madison and Nanjing University, which calls on both campuses to explore new educational opportunities across disciplines and to strengthen existing partnerships. The UW-NJU law school partnership would fall into the latter category, since the UW Law School has been hosting visiting scholars from Nanjing since the 1990s, signed a dual-master's degree program in law in 2007, and held an initial joint conference on licensing and IP in 2008 in Nanjing.
Planning is already underway for the next workshop in the series, to be held in Madison in the upcoming academic year.
Submitted by Laurie Dennis on July 30, 2019
This article appears in the categories: Faculty, Features
Related employee profiles: John K.M. Ohnesorge, BJ Ard