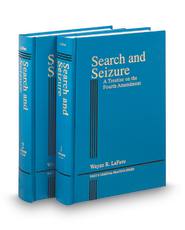 From renowned legal scholars to aspiring novelists, the University of Wisconsin Law School has an array of alumni that have published books in their careers. This newsletter post profiles Wayne R. LaFave, one of the most cited law professors in the country. Search this author's name in the UW catalog to review a prolific compilation of nutshells, horn books and treatises on the topic of criminal procedure. His resume includes more than ninety books which he authored or co-authored and over fifty articles.
Professor LaFave attended the UW from 1959 to 1965, receiving his B.S., LL.B. and S.J.D. degrees. He joined the University of Illinois College of Law in 1961 and is currently the David C. Baum Professor of Law Emeritus. LaFave is best known for his longstanding research regarding the Fourth Amendment, commencing with his first book, Arrest: The Decision to Take a Suspect Into Custody, published in 1965 as part of the American Bar Foundation's Survey of the Administration of Criminal Justice in the United States. His ground breaking research in this area of the law continues to this day, with the publication of his multi-volume treatise, Search and Seizure, now in its fifth edition.
The University of Illinois Law Review published a wonderful retirement tribute to Professor LaFave which includes an article written by UW Law Professor Frank Remington. His words really capture the influence of this famous UW alum and author. And since his "retirement" in 1993, Professor LaFave is still actively writing.

Submitted by Cheryl O'Connor on January 21, 2015
This article appears in the categories: Law Library