Professor Marsha Mansfield has won the 2018 Howard B. Eisenberg Lifetime Achievement Award, presented by the Wisconsin Equal Justice Fund. The award recognizes Wisconsin attorneys who have dedicated their careers to the development and delivery of civil legal services to the poor.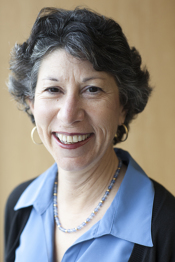 Marsha Mansfield
Mansfield has championed equal access to justice throughout her legal career—from private practice, where she built a reputation representing consumers and family court litigants, to the University of Wisconsin Law School, where since 2007, she has served as director of the Economic Justice Institute.
As head of EJI, Mansfield oversees four legal clinics dedicated to serving low-income and other underrepresented clients in areas such as housing, employment, family, immigration and consumer law. EJI will launch a fifth clinic in January, the VOCA Restraining Order Clinic, to offer legal services to domestic violence victims seeking injunctions against their abusers.
Additionally, Mansfield serves as a full-time clinical professor in the Law School's Family Court Clinic, a program available to low-income individuals who need help with paternity, restraining order, divorce and post-divorce matters. Under Mansfield's guidance, students in the clinic build their lawyering skills at the same time they learn about critical gaps in the justice system.
Mansfield also spearheaded efforts to create the Law School's Pro Bono Program, which provides students with opportunities to work with local attorneys to deliver legal services to community members in need of them.
The Eisenberg award was established in memory of the late Marquette University Law School Dean Howard Eisenberg and his extraordinary commitment to pro bono legal services. Mansfield will be formally honored at a dinner scheduled for Saturday, Nov. 10, in Milwaukee.
Submitted by Law School News on October 16, 2019
This article appears in the categories: EJI News, Faculty, Features, UW Women in Law
Related employee profiles: Marsha Mansfield