Three members of the UW Law School faculty advanced to the finals in the Alliance for the American Dream competition for their proposal to help eliminate legal barriers to employment.
Professors Sarah Davis, Marsha Mansfield and Mitch teamed up with two local nonprofits to propose LIFT (Legal Interventions For Transforming) Dane. The LIFT Dane team wants to create an online platform for job seekers living in poverty that would provide easy access to public data and legal services. The team's goal is to use technology to help solve legal problems more efficiently, problems like inaccurate or misleading criminal records, evictions and foreclosures, and revoked licenses, that can prevent people from getting and keeping jobs.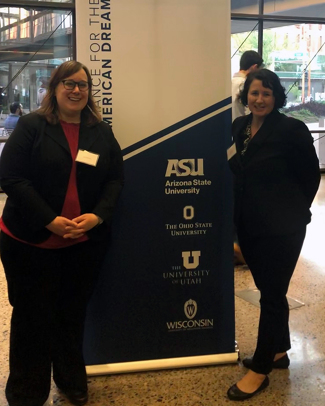 Sarah Davis (right) & Vicky Selkowe '03 of LIFT Dane
The LIFT Dane team was one of three UW-Madison teams that won the university's DreamUp Wisconsin competition earlier this year. UW teams were challenged to propose creative ideas to increase the net income of 10,000 Dane County families by 10 percent. Their victories in the DreamUp challenge ensured each of the three teams a spot in the Alliance for the American Dream contest—held January 29 in Phoenix, Arizona—where they competed with teams from the Ohio State University, Arizona State University, and the University of Utah.
LIFT Dane and another UW team, We Care for Dane Kids, both advanced in competition, along with three teams from the other universities; the five teams will compete again this summer for funding to help implement their ideas in their home state.
Support for the contest comes from Schmidt Futures, a philanthropic initiative that seeks to use emerging science and technologies to improve societal outcomes.
According to Davis of Team LIFT Dane, "LIFT Dane is a game changer for the thousands of local households being held back by civil legal barriers. We're delighted that Schmidt Futures recognizes the role that legal aid can play in raising incomes and opening doors to economic opportunity."
Submitted by Law School News on August 2, 2019
This article appears in the categories: Faculty, Features
Related employee profiles: Sarah Davis, Mitch, Marsha Mansfield