2023 Lecture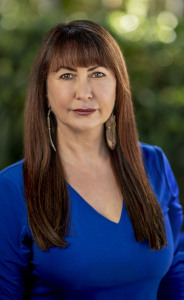 "Rethinking Violence Against Indigenous Women Through a Lens of Human Rights"
4 p.m. April 17, 2023, at the Alumni Lounge, Pyle Center. Visit our events calendar for more details.
Past Lectures
2022: "Mildred Harnack: An American graduate student at the center of berlin's underground resistance to Hitler"
4 p.m. April 13, 2022, at the Pyle Center
Rebecca Donner is the author of the instant The New York Times bestseller "All the Frequent Troubles of Our Days," a bold work of deeply researched nonfiction about her great-great-aunt Mildred Fish-Harnack, an American graduate student who became a leader of the largest underground resistance group in Berlin during Hitler's regime. "All the Frequent Troubles of Our Days" was awarded the National Book Critics Circle Award for Biography and the PEN/Jacqueline Bograd Weld Award for Biography. It was named one of the best books of 2021 by The New York Times, Wall Street Journal, Time Magazine, Publishers Weekly, New York Post, Milwaukee Journal Sentinel, and The Economist. It has received high praise from Pulitzer Prize-winning biographer Kai Bird, NBCC-award winning biographer Ruth Franklin and New Yorker literary critic James Wood.
Donner was a 2018-19 fellow at the Leon Levy Center for Biography at the City University of New York, is a two-time Yaddo fellow and has twice been awarded fellowships by Ucross Foundation. She has taught at Wesleyan University, Columbia University and Barnard College. Donner's other books include two critically acclaimed works of fiction.

Interview with Rebecca Donner
2021: "From Monopoly to Autocracy: A Human Rights Agenda for the Global Internet"
4 p.m. Thursday, April 15, 2021

David Kaye, UC Irvine Director, International Justice Clinic & Former UN Special Rapporteur on the Right to Freedom of Opinion & Expression
David Kaye is a clinical professor of law at the University of California, Irvine. From 2014-20, he served as the United Nations Special Rapporteur on the promotion and protection of the right to freedom of opinion and expression. He is also the author of "Speech Police: The Global Struggle to Govern the Internet" (2019).
His reporting for the UN addressed, among other things, encryption and anonymity (PDF), the protection of whistleblowers and journalistic sources (PDF), the regulation of online content by social media and search companies, Artificial Intelligence technologies and human rights, the private surveillance industry, and online hate. A member of several boards dealing with freedom of expression, online and offline, since October 2020 he has been serving as the independent chair of the Board of the Global Network Initiative. He has also written for international and American law journals and numerous media outlets. He began his legal career with the U.S. State Department's Office of the Legal Adviser, is a member of the Council on Foreign Relations, and is a former member of the Executive Council of the American Society of International Law.

Sponsored by: Human Rights Program, International Division, Global Legal Studies Center & Institute for Regional and International Studies (IRIS)
More Past Lectures
Distinguished people throughout the world have given Mildred Fish-Harnack Lectures, such as President of Ireland Mary Robinson, International Court of Justice Judge and Holocaust survivor Thomas Buergenthal, and UN High Commissioner for Human Rights Navi Pillay.
Learn about their lectures and more through the Mildred Fish-Harnack Archive - UW Law School's Digital Repository.
Mildred Fish-Harnack
Adolf Hitler only gave his personal instruction to execute one person: Mildred Fish-Harnack.
Mildred Fish was a Milwaukee native who earned her bachelor's and master's degrees from UW Madison in the mid-1920s. She taught in the UW Madison English Department and wrote for the Wisconsin State Journal and the Wisconsin Literary Magazine. At UW, Mildred met Arvid Harnack and they married and moved to his native country of Germany, settling in Berlin in 1930.
The Harnacks formed and ran a Nazi resistance organization that published an underground newsletter, gave economic information to the U.S. and Soviet Embassies in Berlin, spread anti-Nazi news reports, and helped dissidents and Jewish people leave Germany. A captured Soviet spy exposed the Harnack's activities in 1942 and the Nazis arrested Mildred, Arvid and 116-120 other members of the resistance. Arvid was executed in 1942 and Mildred was initially sentenced to six years of hard labor. Hitler personally ordered her to be retried, resulting in her execution on Feb. 16, 1943–the only American civilian to be executed by Hitler as an underground conspirator. A sculpture by John Durbrow in honor of Mildred Fish-Harnack was dedicated in 2019 and resides in Madison in Marshall Park (2101 Allen Blvd.).
More information on Mildred Fish Harnack is available through:
The UW Archives "Honoring Mildred Fish-Harnack"
PBS video on the Mildred Fish Harnack story: http://video.wpt.org/video/2243188017/
Lectureship
UW-Madison's Office of International Studies and Programs (now the International Divison) established an annual Human Rights and Democracy Lecture in 1994 named in honor of Mildred Fish-Harnack for her courage, idealism and self-sacrifice. The lecture seeks to promote greater understanding of human rights issues and explore the intersections of human rights and democracy around the world. Presenters of the Mildred Fish-Harnack Lecture advocate for human rights through academic scholarship and/or active leadership and discuss human rights and democracy around the world. UW-Madison's International Division coordinated the lecture until the Human Rights Program was created in 2015.